Crystalfontz CFA-635 LCD Review
Date Posted: Dec 17 2005
Author: Joe
Index:

Posting Type: Review
Category: Thermal Management Reviews
Page: 2 of 4
Article Rank: from 2 Readers Must Log In to Rank This Article
Forum Discussion Link
Crystalfontz CFA-635 LCD Review By: Joe
Breaking Down the CFA-635:

From the CFA-633 article that pH wrote a couple years ago, you see that the key feature of the CF633 is the device was to do temperature controlled PWM fan control to keep temps in check while also keeping noise at a minimum. The CF635 has all those features and more, and in a more refined way.

Before we start going into all the items that are different or better than the CFA-633 or talking about all the other details, lets start at the basics. The CFA-635 I received was packaged with some optional items, but as you will see they make up what the CFA-635 is. This also makes it a very dynamic package that you can customize what you get based on your needs.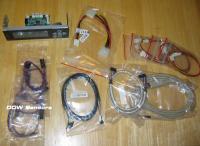 As you can see in that there are a fair bit of wires in the box we will go over what I all received piece by piece:

System Cooling Accessory Board (aka SCAB) :

The CFA-635 w/ SCAB board attached.
SCAB? What's that? Well unlike the CFA-633 the fan control and temperature monitoring is no longer onboard, and is an additional add-on for the CFA-635. This also adds some nice flexibility to the device.

The SCAB board is attached to the CFA-635 main unit via a small jumper cable, but in the package we also received a 16" extension cable to let you remote mount the SCAB board in your case somewhere remote to the main unit. If you are adventurous enough you could put the CF in an enclosure outside your PC, and just run power, the SCAB cable, and USB back into your case and have a nice external fan control. Below is a pic of the SCAB connected to the main unit via the extension cable. Note that there is a second header on the main board that looks like the connector that goes to the SCAB. My first thought was that I could hook up a second SCAB board, but I was wrong. Its some expansion slot for more LED's or something. I am waiting on some clarification on this still (when I get it I will update the article)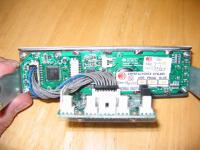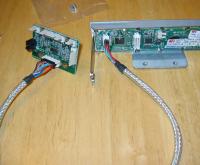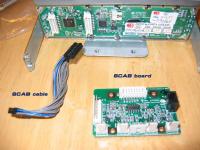 Specs for fan support (or 12v pumps if you are bold enough) is 1.5Amp max per fan header, and 4 Amps total through the device.

The SCAB board sports the same connections we are familiar with on current CFA-633's. It has 4 Fan headers, one Floppy drive style Molex power connector, and one DOW sensor connector (which can daisy chain up to 32 sensors on). Here's what it looks like with wires draped off of it.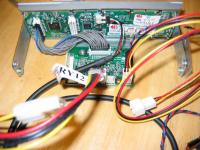 The Dallas One Wire thermometer sensors are one of the coolest parts of the CFA-631,3,5. pHaestus showed back a couple years ago the sensors that he received with his CFA-633. Back then you got the raw TO-92 packaged thermometers that you had to solider wires on yourself. Crystalfontz has come a long way with these, and now sells them complete and ready to connect and daisy chain. The package we received has 4 of these thermometers with it. They connect to the little black clip plug (much like an analog CD Audio plug in your PC) and then just connect onto each other after that.

Here are some pics of what they look like (Single, Daisy Chained, and A Close Up):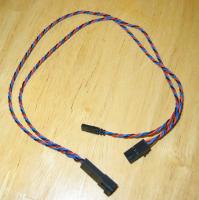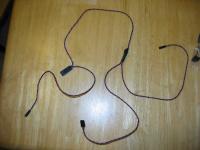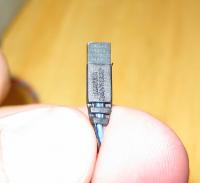 The DOW temp sensors used (as you can read in the close up) are Dallas 18B20. These are "High precision temp probes and here are some specs copied from the Maxim IC site:



±0.5°C accuracy from -10C to +85C



Measures temperatures from -55C to +125C (-67F to +257F)



9- to 12-bit user-configurable resolution



1-Wire interface requires only one port pin for communication



Has a 64-bit unique and unchangeable electronic serial number



Multi-drop capability for simplified distributed temperature sensing



Alarm function with user-defined nonvolatile alarm settings



Converts temperature to 12-bit digital word in 750ms (max.)



No external components required to sense temperature





The accuracy is better than almost any other consumer level LCD device to control fans and such. The sensors are fully contained thermometers on their own; so if you cut, resolder, extend, shorten the wires it wont impact the temp reading. The CF635 doesnt figure out what the temp is from the probes, the probes tell it what the temp is in a simple serial data link.

As pHaestus mentioned in his article(s), these sensors have thier own ID or address (as listed above a 64 bit unique addy). The sensors are arranged by their ID number, so you need to connect them up and label them for their order by testing each one and seeing which sensor it is in the chain. You can do this easily by firing up one of the test apps we will talk about later and putting your fingers around one at a time and looking for the temp jump. If you break or get a new sensor you need to be prepared that it may shift the sensor numbers all around by landing in the middle or the beginning of the chain when you add it on.

The remaining set of pins on the SCAB board are GPIO pins used to control ATX Power state, and the ability to power up, power down, reset the PC from the CFA-635. You need to get one of these cables to properly use those pins though.

The CFA-635 Main Unit:
The main unit sans SCAB board is actually quite interesting. As you can see now there is no need for anything more than the USB cable to get the LCD functions. Which is pretty cool for someone who wants to put this thing in a remote enclosure, but at that point you are missing many of the benefits that the CF brings to your machine because you don't get any of the PWM fan control or temp monitoring features.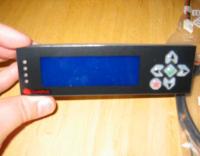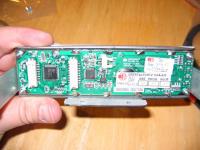 As I posted earlier, we received both USB cables, one that goes to an external USB hookup for those of you who lack onboard headers or want to mount it externally, and one for an onboard header.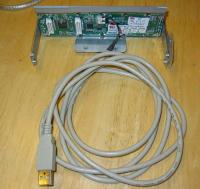 One thing to be careful of is to make sure you know your Mobo's onboard header pin-out or you could burn up your new fancy LCD by getting the +5 and the -5 mixed.

The mounting for this device is the same as it was for the CFA-633, 4 screws (of a threading not normal for PC's so DONT loose the screws!) lock into the place you would lock a 5 1/4 drive in. There are some disadvantages to this method though as you can have issues with a case that uses rails. Some rails dont seem to latch in that great with just the CF devices bolted in.

Well that about covers the "what's in the box" and what makes up a CFA-635, now lets move on to the software, and using this geek gizmo
Random Forum Pic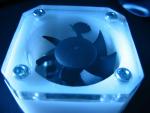 From Thread: Chieftec big tower wc'ing in progress
ProCooling Poll:
So why the hell not?
| | |
| --- | --- |
| I agree! | 65% |
| What? | 18% |
| Hell NO! | 0% |
| Worst Poll Ever. | 18% |
Total Votes:17Please Login to Vote!