The Chemicals of OC'n and Super Cool'n - Insulation
Date Posted: Mar 24 2001
Author: Joe

Posting Type: Article
Category: High End Cooling
Page: 2 of 2
Article Rank:No Rank Yet Must Log In to Rank This Article

Note: This is a legacy article, imported from old code. Due to this some items on the page may not function as expected. Links, Colors, and some images may not be set correctly.
The Chemicals of OC'n and Super Cool'n - Insulation By: Joe
The Chemicals of OC'n and Insulating your Rig
| | |
| --- | --- |
| Urethane Sealant- | |
| | |
| --- | --- |
| | |
| | This stuff seems to be pretty hard to locate. So hard that I know of only ONE place that carries it. What's it used for? Well simple. To seal the back of the motherboard. It creats a strong, flexible, and very di- electric coating. This will help keep condensation worries on the back of the board at a minimum. |
In the picture to the right you can see the good coating that this stuff does. I used this on DH2 and it worked great. If you get into anything that will take a chip down very low temps (-40DegC) I would prolly use this along with the silicone, and neoprene on the back like I used with the Pro/Mini. This makes it almost impossible to get a short on the back of the board due to water.

You will need to clean the back of the board with Alcohol to remove any of the oils used in Mobo production first to get it to stick in a even layer all the way across. You can also use it on the top of the board, but I think Conformal Silicone is better as you can control the silicone more then a spray coating like the Urethane.

The Urethane is NOT Hydroscopic, and drys fast so there is no worry about condensation while its curing.

Urethane Coatings-
There are only 1 MFG and one place to locate this stuff that I have found, it comes in both Red and Clear versions. GrayBar's description is as follows:

"Dry quickly to hard, durable, flexible and nonconductive film. High dielectric strength, high surface, volume resistivity. Electrical/electronics applications. Effective temperature -90o to 250o. Abrasion resistant insulator."
| | | | |
| --- | --- | --- | --- |
| MFG / # | Desc | Catalog Part # | Company / Catalog |
| CRC Industries | 11oz Can, Clear Urethane Coating, -90DegF to +250DegF, | 18411 | |
| CRC Industries | 11oz Can, Red Urethane Coating, -90DegF to +250DegF, | 18410 | |
UPDATE: Acrylic Conformal Spray-

I have been looking for this product for a few months, and last night someone sent me an email about it finally! :) This is an Alternative to the above Urethane coating. This is actually almost like a sprayable liquid GOOP material. It contains a good number of the same materials as GOOP, and is made mainly for protecting PCB's.

Unlike the Urethane coating, this dries to a very hard coating, and is very similar to the coating most motherboards are coated with during the MFG process ( coats all the traces on the motherboard, that Green coating) The stuff even glows Blue under UV light for inspection purposes!

Here is the MFG companies Quote on its abilities:

"A flexible transparent acrylic coating specially formulated for the protection of electronic circuitry to meet the highest defense and aerospace industry requirements. Possesses excellent adhesion under all climatic conditions. It is resistant to mould growth and has a temperature range of -60 to +130°C. It has excellent dielectric properties and is fluorescent under ultra-violet light as an aid to inspection. Can be soldered through without fear of highly toxic gases being produced e.g. isocyanates. It is non-corrosive to cadmium and zinc plate (contains no phenols). It can be totally removed with 1.1.1 trichloroethane. Supplied in 200ml aerosol can."

Acrylic Spray Coatings-
| | |
| --- | --- |
| | Only place I know that I can score the stuff is in the UK. If you know of a place in the US that it can be bought please drop me a line! |
| | | | |
| --- | --- | --- | --- |
| MFG / # | Desc | Catalog Part # | Company / Catalog |
| ElectroLube | High Performance Acrylic (HPA) 200ml (6.7oz) Spray Can, -60C +130C Clear in color. | YT50E | |
| ElectroLube | Normal Use - Acrylic Protective Lacquer (APL)200ml (6.7oz) Spray Can, | DM82D | |
| | |
| --- | --- |
| | |
| | I am pretty sure this is the best stuff invented. Its like a mix between Rubber Cement, Super Glue, and Duct Tape. Its as easy to apply as Rubber Cement, As strong as super Glue, and as diverse in its applications as Duct Tape. |
The 2 types of goop I have used recently are Marine Goop, and Plumbers Goop. I honestly cant tell the difference in them at all, I think its just ploy. But it doesn't matter, it all works for all the uses I had for them.

There are other Goops also, like Outdoors Goop, and before there was Shoe Goop.
| | |
| --- | --- |
| | Goop is a Urethane/Acrylic based adhesive that sets rapidly and cures in 12 hours. ( or 4 or 5 hours if you put it in the oven at 160Deg). The stuff works good for SO many uses. I used an entire tube on DH3, and a good deal on the Pro/Mini. I use it in replace of Teflon tape on threading hose barbs and such. It is also what's holding all the Res Tanks I have made together. Seems to hold up to Antifreeze and water wetter based coolants very well, and also handles heat very well. |
Goop Adhesives-

| | |
| --- | --- |
| | |
| | I used Goop around the edges of the P3 CPU in the Pro/Mini to anchor the cold plate on the core. It is just a ring around the outside, so if I needed I am able to remove it still. |
| | |
| --- | --- |
| | Because I don't know of any place to get this online, I cant give you a part #. |
| | | | |
| --- | --- | --- | --- |
| MFG / # | Desc | Catalog Part # | Company / Catalog |
| Goop | Its goop, its in a 3.7Oz bottle.. Umm I cant find many more specs then that for it. | On the Shelf | Home Depot |
Now there is more that is used in insulating a rig, just a few of them are:

Vaseline
Urethane Foam ( "GREAT STUFF" type insulation foam)
Duct and Electrical Tape
Latex Coatings

Vaseline is easy to find... I am sure you all know where you can get some. The Urethane Foam is something I do not use as it is messy, but you can see some examples of it at N8's home page here. Duct tape, well that's as easily accessible as Vaseline. Latex coatings is something I have just started looking at. I have a jar of latex that I use for Masking paint jobs, and I am looking at testing it for a good sealant. More news on that later.

I hope this helps you find what you need on the web! If you have a better place, better material or something please let me know! ( email Joe@ProCooling.com )

UPDATE: 9/16/02 - Brian posted an additional article covering the Coolant aspect of the cooling system! Check it out here.
| | |
| --- | --- |
| That about wraps this article up, If you have Questions please post them on the ProCooling Forums (recommended), or Email Joe directly. | |
Random Forum Pic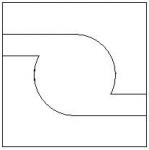 From Thread: block designs
ProCooling Poll:
So why the hell not?
| | |
| --- | --- |
| I agree! | 65% |
| What? | 18% |
| Hell NO! | 0% |
| Worst Poll Ever. | 18% |
Total Votes:17Please Login to Vote!