SilverStone LC17 HTPC Case Review
Date Posted: Feb 6 2006
Author: Joe
Index:

Posting Type: Review
Category: Home Theater / HTPC Reviews
Page: 3 of 3
Article Rank: from 2 Readers Must Log In to Rank This Article
Forum Discussion Link
SilverStone LC17 HTPC Case Review By: Joe
Out with the old, in with the much more shiny.

The move from my HTPC to the new case took a total of 20 minutes so there aren't that many pictures or things to really talk about, but there were some issues I noted and explain here.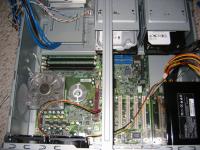 Fitting the motherboard in the case was tight, mainly because I am a tard and didn't remove the top brace before doing it. So just FYI, the top brace is removable. Also once you get the motherboard in, you may have some issues getting the 3.5" racks out if you need to depending on what wires and connectors your board has near the bays.

You can also see how that side vent lines up with the socket, its a little off to the side, but will still work for my mobo if I used a "passive" HSF.

Some pics of the other gear going into the machine: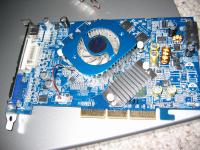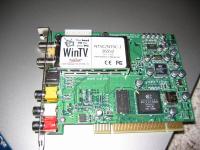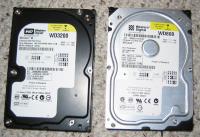 Thats the 6600, the PVR card, and the HD's. I really should have more than 320GB, but all non PVR content such as video downloaded and MP3s resides on my server which has about 600GB of its own.

Then, with it all hooked up: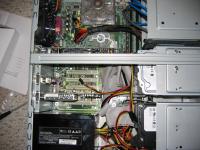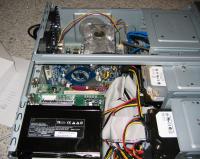 Stuff went in pretty smooth; not much more to say about that. Powering it up gave me a scare though because... nothing happened. Then I realized the SilverStone PSU shipped with its setting on 230V not 115V.

First Impressions and Conclusions
First Impressions:
Well, I wasn't expecting miracles. I mean, I am moving the same junk from one machine to another. So, just like in programming classes: garbage in, garbage out.

Noise: Quieter by a small margin, and that's mainly because there is no fan in the front of the case making noise thats real audible if you are standing in front of it. Noise is something I am going to tackle down the road in the next couple weeks, look for a write up on that.

Cooling: This is the biggest area of improvement. Even with only the 2 rear 80mm fans, the CPU saw a full 5*C drop in temp (BIOS reading) between the old and the new case, with no change made to the HSF on the CPU. You can feel air being pulled into the side vent, its keeping air around the CPU and HSF very cool and then rushing the air out the back of the case. Other areas of the case were also running cooler. With a SMART reader, I could read what operating temp the HD was seeing, and they both showed a 2 or 3*C drop in temp. I think the reason for that is because they are now in separate drive cages which act as big heat sinks.

Looks: Dead Sexy. I am a minimalist when it comes to designs much of the time, and I appreciate a simple front of the case.

Ease of getting all the gear in it: Simple and fast. This is a very easy case to work on and in, very open, and almost as easy as a larger tower.


Conclusion(s):

I think theres a clear reason why SilverStone came out of nowhere in 2003, and now is pretty much synonymous with the term HTPC. SilverStone has made a nice, purpose built machine. While in some ways I consider it a glamorous 1980's desktop, the LC17 excels in what it set out to do.

The cooling capacity, the drive capacity, the ability to hold 2 optical drives and possibly 7 HD's is awesome and a feat that even some towers couldn't achieve. As I said earlier in this review, this is a case that can handle pretty much what you want to grow into. Whether you're like me and have a Socket A or some old P4 board for a HTPC trying to get all the life you can out of it or, if you want to throw in some dual core Opteron with a Zalman HF, this thing can fit it.

It may not be the most silent of PC's due to not having any vibration dampening or included grommets to decouple the fans from the chassis, but it isn't bad as long as you control your fans.

One aspect to not overlook is the price, I looked around and the going price for this case is less than what a Antec P180 tower case goes for, and less than many other popular cases. For what it offers for HTPC action it seems like one solid deal.

The fact it comes with a NICE removable front port module rocks, if you replace it out of the case with something else, you can always use that in another machine or case that you have, which is a solid bonus in my book. (Even though SilverStone may not be hot on me telling people to take it out and replace it with a fan control and LCD system

hehe)

Now for the Obligatory Pros/Cons
Pros:



Lots of expansion space for drives. (remember... enough for at least 2 dead hookers )



Looks very nice and clean.



Excellent cooling possibilities.



Comes with 2 80mm fans, and the front port module.



BLUE LEDS's! hehe I know some people think they are a Pro for anything, and may be one of the biggest things that influences their decisions. Someday someone needs to make a case out of just blue LED's - they'd be rich!



Priced at a level comparable with a mid range tower case!



Cons:


Limited 5.25" bay usefulness (restricted to CD/DVD Roms with trays)



Potentially quite a noisy case if you load up all the fans, even with quiet fans.



I normally like to keep the pro's and con's pretty even, because I honestly believe that there is normally as much wrong with a product as there is right... but I am having issues thinking of anything more to not like about this case.



Well thats about all I have on the case! This is our first HTPC related review/article, and there will be more coming soon!
Random Forum Pic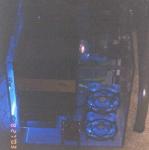 From Thread: custom-built clear case (its finally DONE!!!)
ProCooling Poll:
So why the hell not?
| | |
| --- | --- |
| I agree! | 65% |
| What? | 18% |
| Hell NO! | 0% |
| Worst Poll Ever. | 18% |
Total Votes:17Please Login to Vote!