CrystalFontz 633 Review
Date Posted: Feb 20 2003
Author: pHaestus

Posting Type: Review
Category: Thermal Management Reviews
Page: 3 of 3
Article Rank:No Rank Yet Must Log In to Rank This Article

Note: This is a legacy article, imported from old code. Due to this some items on the page may not function as expected. Links, Colors, and some images may not be set correctly.
CrystalFontz 633 Review By: pHaestus
By: pHaestus 3/8/02 and Updated 2/20/03 Page 3

When I first reviewed the CrystalFontz 633 , my overall conclusion was that it was a temperature and fan control device with a huge amount of potential. However, there were some serious limitations with the available software and I wasn't so sure that the majority of users would really benefit from it that much. I am happy to report that new software releases have completely changed things for me. I thought that the changes in the usability of the device were so great that I should update the review with new material.

633_Wintest Software
First of all, Crystalfontz was kind enough to update their WinTest software that shows off the features of the CF633. The software now supports temperature logging with timestamps, which makes the CF 633 actually pretty useful for testing out cooling gear. Here is a screenshot of their latest version:

Note that there is now a box in the program to "log to 633_log.csv". This will dump the results (with a timestamp in the version that I have) to a .csv file. This means that it is relatively simple to generate test data with the CF 633. Take, for example, the following heatsink testing data where CPU was idled and then placed under load using different fan speed settings: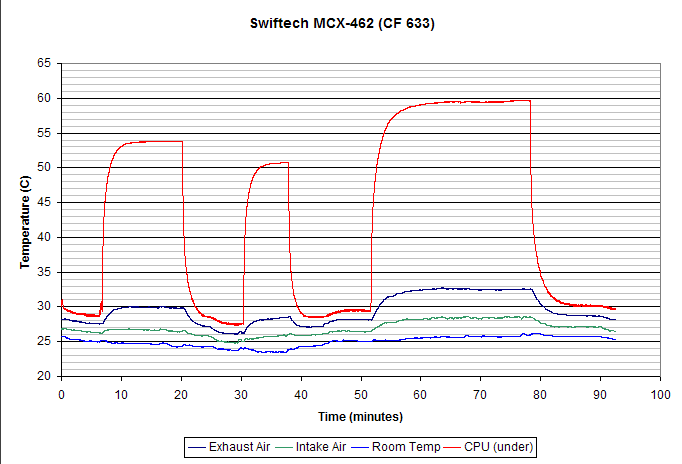 Since the timestamp addition, it is possible to use the CF 633's results alongside those of my Maxim 6655 diode reader. I have been extremely satisfied with the Dallas One Wire sensors for taking a large number of air temperatures around heatsinks. To remind everyone, they are 0.5C accuracy and 0.125C resolution without any calibration.

CF633 Service for Windows NT
I was asked to beta test a win32 service for the CF633 a few months back, and once I got it working it has totally changed my opinion of the device. Mark Willians, aka MWP, of Overclockers.com wrote this service. You may be familiar with his work; he is also the author of the Crystal Control LCD software that CrystalFontz has on their site as well. We will get to that software in a bit; for now let me run down the features of the 633 service.

Once installed, the CF633 service runs in the background and automatically launches with windows. You can find it in Control Panel/Administrative Tools/Services/CF633 Service:
| | |
| --- | --- |
| | |
| | |
The service allows for one to name temperature sensors, set fans to run at a given speed at boot, set alarms for different fans and temperature sensors, and most importantly, it can couple a temperature sensor to a fan's PWM control. This allows one to set up extremely flexible temperature-controlled fan adjustment. All of these settings are controlled with a .ini file that can be configured in your text editor and then just dropped into your /windows/ directory. Mark sent his ini file with the service, and it is clearly annotated and has instructions. For example, I set up the following configuration for Fan 4 on my CF633:

What this configuration does is PWM the fan on connector 4 at 30% power at 20C or lower on temp sensor #1, and at 80% at 32C or higher on temp sensor #1. These temperatures were chosen so I could force the fan PWM control to change just by squeezing the temp sensor between my fingers. As you can see from screen captures, the service works perfectly:
For me, temperature controlled PWM is one of the things I have always wanted in a fan controller. The CF633 service goes one futher, because being able to totally adjust the lower and upper temp limits and the amount that the controller adjusts fan power means that complete customizability in fan control is possible.

As a bonus, the service makes the temperature sensors and fan rpm readings usable in Motherboard Monitor 5.
Crystal Control Software

The above features could be performed with a fan controller/temp reader that didn't even have an LCD on it. However, probably most readers are interested in using the 2x16 lcd of the 633 for displaying system information. This wasn't too convenient when the 633 was released, but Mark Williams' excellent CrystalControl software has supported the CF 633 for a fair while now. I reviewed the CrystalControl software in my Pro/Lan article, so I will just explain how the CF633 service integrates.

Even without the service, you can still uuse CrystalControl with the CF633. However, if you install the service, then you can simply select the CrystalFontz 633 (service) from the options list of different LCD types:
| | |
| --- | --- |
| | The service also integrates into the screen configuration, making it possible to display all sorts of temperature sensor, fan rpm, fan power %, and other information on the LCD screen: |
CrystalControl also makes it simple to display a huge variety of system information such as: Winamp playlists, uptime, HDD/RAM/CPU/network usage, game server stats, e-mail notification, MBM information, and many more I probably missed.

Conclusions
With the new Win32 service and integration into Crystal Control, I am extremely pleased with the CF 633. It still is rather expensive ($78 + s/h for the lcd and the bracket), but it is also now extremely powerful and feature-rich. I can't say enough nice things about Mark for writing the Win32 service and sharing it with me. The service is still beta, and if you want a copy of it then you should drop him an e-mail at mwp@overclockers.com.au.
Random Forum Pic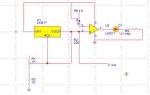 From Thread: rheostat baybus LEDs idea
ProCooling Poll:
So why the hell not?
| | |
| --- | --- |
| I agree! | 65% |
| What? | 18% |
| Hell NO! | 0% |
| Worst Poll Ever. | 18% |
Total Votes:17Please Login to Vote!